Jobs for Freshers in the Architecture Industry
What jobs can I get with an Architecture Degree?
You might be surprised to find out there are actually plenty of career opportunities available for fresh graduates with an architecture degree. But first you need to understand that the role of an architect does not just end at the design of the building – it continues through the construction and maintenance phase of a building project.
A quick search on Jobstreet for "architecture jobs" will yield many results. Some of which include:
Senior Design Engineer
Autocad Drafter
Interior Designer
Architectural Co-ordinator
Project Co-ordinator
BIM Co-ordinator
With the exception of the role of "Interior Designer" or "Architectural Co-ordinator", the other job roles probably look quite foreign to you. But have no fear – we are here to break it down for you.
The traditional tasks of an architect.
Look at this sample job description for an "Architectural Engineer"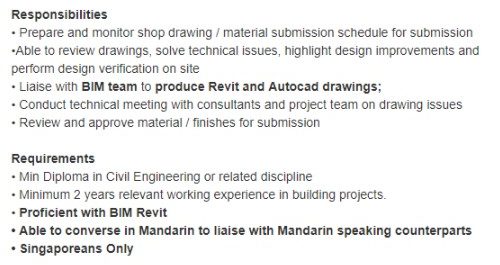 If we break it down an entire building project, the architects job role at every stage would probably look something like this:

At every stage of the project, the architect will have to co-ordinate with clients and sub-contractors to ensure that the design intent has been fulfilled.
What are the key tasks involved?
You might not be faulted for thinking that the role of an architect revolves around design conceptualization or cadding out shop drawings.
As an Architect, you would need to prepare work schedules, come up with a bill of materials, and also inspect work on-site to ensure that the design requirements have been fulfilled. In the context of Singapore, you would also have to ensure that all drawings in the project are performed according to regulatory requirements.
Failing to do so could be all the difference between your firm winning – or losing – a bid for a tender.
How can I secure such a job?
Autocad is definitely necessary for securing such as job as you would need to be able to draft out shop drawings.
But another key requirement that you will notice in all these job descriptions is the need for being familiar with BIM. BIM is a method of virtualizing the construction process (which I have covered in a previous article)
The current industry-wide practice is to use Revit software for performing BIM.
Most of these job-roles typically require you to have a few years of experience managing such projects – something which you might not have been able to as you were studying. This is because you would have to be familiar with the documentation process as well as regulatory requirements in order to do your job well.
However, AcePLP's Trainee BIM Engineers Programme will help you bridge that experience gap. We provide you with training in Autocad and Revit software and rotate you across a wide variety of projects to build up your experience and project portfolio. In addition, you will earn a full-time salary on top of abundant in-house support from our trainers during your projects.
We hope this has been useful so far. Happy searching!