The recent changes in Autodesk's licencing agreement has forced many businesses using perpetual (i.e. AutoCAD or Revit) licences to switch to a user-based subscription model. Combined with the consistent annual price increases, some members of the CAD community have started looking for cheaper alternatives to AutoCAD.
One promising option that has appeared is BricsCAD – an acquisition made by Swedish MNC Hexagon AB.
The design motivation behind BricsCAD was to produce an AutoCAD alternative, with AutoCAD being one of the most widely-used software in the built-environment sector worldwide. Hexagon intends to use BricsCAD as a gateway to developing other commercial solutions for the built-environment sector.
The BricsCAD User Interface
BricsCAD looks similar to AutoCAD, but there are many differences in the interface. It has a 'Quad' function that annoyed me at first. Quad is a pop-up contextual menu and rollover tooltips. It shows last used command and objects information. And when you move your mouse pointer on the Quad, it expands and shows related commands in graphical manner. Other reviews mentioned that it is helpful in the long run, but I think I have not used it long enough to enjoy the benefits.
BricsCAD might look like AutoCAD. Most of the commands are probably the same, but not all. The Command Alias is also not the same. For example, OP (options) is OPEN in BricsCAD, and OSNAP is called ESNAP. BricsCAD has 'Auto-Complete command' function and a suggestion list for when you input your commands. Another great plus point is the 'Helix' function, which is often used to create 3D springs; that particular function was not easily available previously on most CAD software.
First glance for BricsBIM looks like Sketchup, but with Revit capabilities. Clean and sleek. Its quickdraw function is extremely useful for generating the floorplan out in 3D quickly.
The drafting work set is very clear and easy to use. For example while testing out a simple assignment of plotting a site plan (L1A1Q3), all the essential tools that I required are already in the "Home" tab such as:

There is also a "structure tree" which like Bentley has, but AutoCAD does not. I find this Structure panel to be especially useful when there are many surfaces in my drawings and I need to edit only one of it. It helps to single it out in a list, and I can immediately isolate the particular object.
The options dialog and settings are also different from AutoCAD; it takes some time to understand, but it is pretty straightforward. Plenty of users seem to have no issues importing their AutoCAD CUI as it supports a variety of formats, including those prior to AutoCAD 2006 (.cui, .cuix, .mnu, .mns, .icm).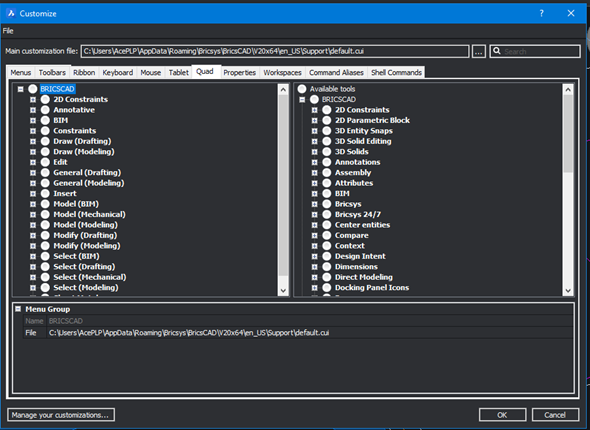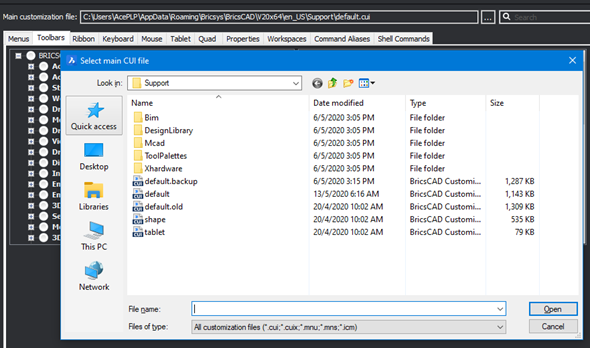 BricsCAD works with AutoLISP Programs (Advanced Users)
Another advantage of BricsCAD software is that it is able to load AutoLISP programs, of which AutoCAD LT does not. Some users have experience with the software crashing as it is unable to fully compile the code – It is recommended that you create a backup copy of BricsCAD default PGP and CUI before any overwrites. One reviewer had managed to solve the issue by copying aliases between PGP and loading partial CUI.
The Downsides of BricsCAD
Lack of a Geographical Coordinate System
Sadly, there is no GIS SVY21 geographical coordinate system which I currently based on. Thus, users working on projects that may not have its geocoordinates built-in will need to import from its local government databases.
BricsCAD is unable to import from Revit
BricsCAD was not able to import files from CAD software like Revit, Rhino 3D, and MicroStation which have developed their own formats native to their software. For myself – I tried importing some of my 3D MicroStation (.dgn) files into BricsCAD. Sometimes it crashes when I tried do certain modifications to the existing model.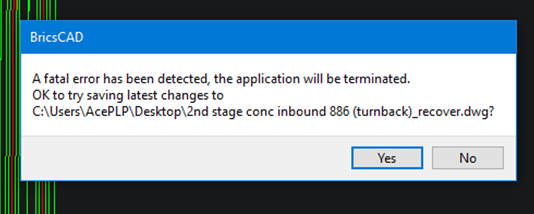 The BricsCAD Platinum version is able to import from other file formats such as ACIS, Autodesk Inventor (.iam, .ipt), IFC (.ifc), Sketchup (.skp), NX (.prt) and Solidworks (sldprt, .sldasm). This means that there is this likelihood that one could import non-native file formats into BricsCAD using third-party tools.
While Autodesk has BIM360 and Bentley has ProjectWise for cloud collaboration, BricsCAD has its very own Bricsys 24/7. For teams looking to work remotely, Bricsys 24/7 could represent a viable option for their project.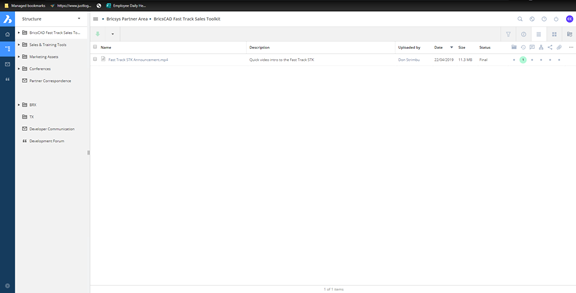 Is BricsCAD Cheaper than AutoCAD?
Price wise, I think BricsCAD is significantly cheaper than AutoCAD, as shown on their webpage. Their perpetual license pricing for a single user is way cheaper than AutoCAD. If you want the full suite of 2D and 3D features, you may choose to purchase the Platinum version.
Unlike Autodesk which sells their product in separate packages (i.e. Revit, Maya, 3Ds Max), Bricsys sells their products in 1 license. Also, if user(s) have previous experiences in using AutoCAD, the cost of transitioning to BricsCAD is effectively nullified. If you are working as a team in a company, BricsCAD licensing would be a real steal; it offers unlimited projects and users on their cloud network Bricsys 24/7 for the price of one!
With every new and improved update to their software, I only hope they come up with more products or solutions for say, Roads, Trackwork, Industrial Plants or Visual effects. They could also package their products to suit certain industry verticals in future.
Support & Online Documentation
BricsCAD has sufficient online tutorials for basic functions. Their tutorials are clear and concise, with the addition of a search bar to provide narrow search to uncommon problems. If there are other issues or you are unable to create the design of your needs, try the online forum whereby the online community could provide their experience. Else, you can submit a support request for more assistance.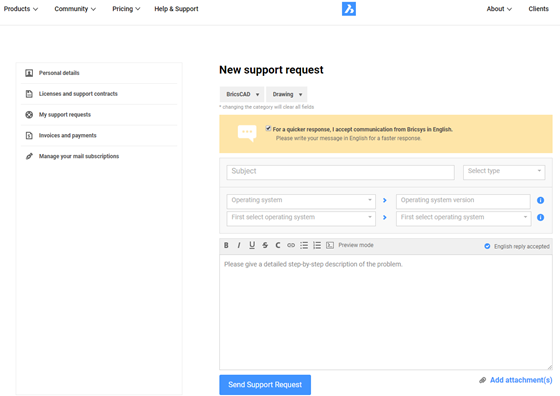 I think CAD modellers who are familiar with BricsCAD would not have trouble transitioning to BricsCAD. The shift would be rather seamless, as compared to transitioning from AutoCAD to any other CAD software.