Jobs for Electrical Engineering Graduates
* Fresh graduates are welcome to apply
ROLE OF AN ELECTRICAL ENGINEER at ACEPLP
Fresh Electrical Engineering graduates and mid-careerists with no prior work experience will complete 2 months of classroom training in BIM and CAD applications. The training is conducted by Ace Industry Academy (AIA), the official training arm of AcePLP, and will prepare you as you embark on your career as a Electrical BIM Engineer. AIA is an SSG/WSG approved training provider, and some modules which you attend during this period will be WSQ-accredited, and in line with the national skills framework for the Built Environment. (SSG/WSG is a statutory council formed by the Ministry of Manpower and Ministry of Education.)
Certificates will be awarded on completion of classroom training, and thereafter, you will be assigned to work on projects to gain experience. To guarantee a smooth transition, AcePLP pairs freshly trained BIM engineers with senior colleagues or Alumni. Trainers will also be on hand to assist the new Engineers if they run into any challenges. The experience you gain from participating in projects can be used towards the Digital Delivery Management Accreditation Scheme.
In your projects, you will serve clients that are main contractors with mechanical and electrical (M&E) departments, or you may be assigned to work with offices that provide engineering design and consultancy services, creating data-rich BIM models. With BIM, contractors can build electrical 3D BIM models of power supply, lighting, duct banks, power feeders, branch circuits and more.
As you learn and progress in the digital delivery services role, you may be moved into assignments that require a great deal of integration and coordination with other stakeholders, because the role of design and construction is often a collaboration between consultants, contractors, and specialists.
Coordinated BIM models in this area can be used to avoid material waste, rework, and better plan the execution of the project. Add-ons to popular BIM tools such as Revit can help produce automated detailing of shop drawings.
In the 26-month AcePLP Career Advancement Programme, you start off in our classrooms to undergo intense technical training in BIM to build your foundational skills in Digital Delivery Management.
Through our training programme, we ensure that you gain the ability to use the most popularly used BIM application software in Singapore, which are Autodesk Revit, Bentley OpenBuilding, OpenRail and OpenPlant. This gives you the flexibility to work on various kinds of building and infrastructure projects in Singapore. We will also cover the use of 2D products such as AutoCAD and MicroStation, which are crucial for the documentation of the BIM models.
As when opportunity arises, we will put you through training in 4D BIM products, combining the BIM model with a Microsoft Projects or Primavera P6 schedule using products such as Synchro 4D or Navisworks Manage, enabling you to deliver on Virtual Design and Construction processes. You may undergo other types of training depending on your interest and where the opportunities take you.
career progression as an electrical engineering professional
The Digital Delivery Management track involves the adoption and implementation of up-to-date emerging digital technologies to optimize operations and processes, improve collaboration and enhance work efficiency.
You can progress in this track to become an expert DDM professional, rising in the ranks to become a Tier 2 (Lead) BIM Manager, where you will play leading roles in project delivery, digital solutions and adoption, competency building and innovation to organisations or project teams in the Built Environment.
At the height of your career in the DDM (BIM) track, you can aspire to be a Chief Digital Officer (Tier 1), a C-suite role where you will oversee the implementation and innovation of digital solutions to achieve digital transformation in the business, leading the strategic direction in your team.
Alternatively, you can move into other tracks in the Built Environment that is of interest to you, such as in Architecture, Engineering Design and Consultancy, Construction and/or Project Management. With a domain knowledge grounded in construction through the experience in projects, armed with a spatial awareness via your 3D modelling and visualization skills, you can enter other tracks to continue to build domain expertise and experience.
Within the Electrical Engineering domain, you have built an advantage in using the BIM to enhance productivity as you will use your skills for clash detection, change management, data management, and simulations of building performance in all of your future projects.
get accredited as a digital delivery management professional
The skills, knowledge, and experience which you gain from participating in this apprenticeship programme will make you eligible to become an accredited professional in the Digital Delivery Management (DDM, otherwise known as BIM) track of the Built Environment. This is a nationally recognized industry accreditation scheme that provides a structured framework to assess and recognize your digital skillsets. The recognition can help you ensure appropriate remuneration and enhance employability.
By gaining the requisite skills and experience through our apprenticeship programme, you will minimally qualify as a Tier 4 DDM Professional (Assistant Specialist), commonly known in our industry as a BIM Modeller, at the end of the 26-month programme.
If you have undertaken BIM coordination projects in the period of your apprenticeship, integrating models from various engineering disciplines such as Structural services and Architecture to deliver coordinated combined services models, you may qualify at the Tier 3 DDM Professional (Specialist) level, commonly known in our industry as a BIM Coordinator.
CAREER PATHWAYS TO ACCREDITED DIGITAL DELIVERY MANAGEMENT (BIM) PROFESSIONALS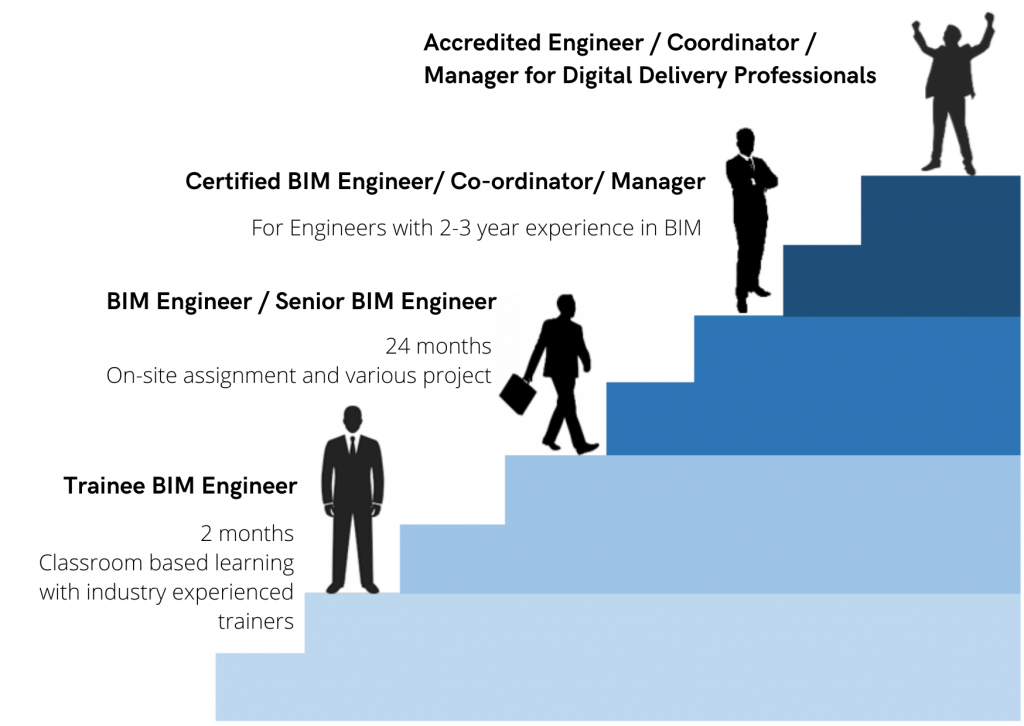 BIM DESIGNS BY OUR ENGINEERS