Jobs for Mechanical Engineering Graduates
* Fresh graduates are welcome to apply
ROLE OF A MECHANICAL ENGINEERING GRADUATE AT ACEPLP
Fresh Mechanical Engineering graduates and mid-careerists with no prior work experience will complete 2 months of classroom training in BIM and CAD applications. The training is conducted by Ace Industry Academy (AIA), the official training arm of AcePLP, and will prepare you as you embark on your career as a Mechanical BIM engineer. AIA is an SSG/WSG approved training provider, and some modules which you attend during this period will be WSQ-accredited, and in line with the national skills framework for the Built Environment. (SSG/WSG is a statutory council formed by the Ministry of Manpower and Ministry of Education.)
Certificates will be awarded on completion of classroom training, and thereafter, you will be assigned to work on projects to gain experience. To guarantee a smooth transition, AcePLP pairs freshly trained BIM Engineers with senior colleagues or Alumni. Trainers will also be on hand to assist the new engineers if they run into any challenges. The experience you gain from participating in projects can be used towards the Digital Delivery Management Accreditation Scheme.
As a BIM Engineer at AcePLP, you will begin by being assigned to projects that are discipline specific. In this case, you will likely be assigned to jobs in digital delivery BIM where you will deliver such services to the client in the Mechanical Engineering BIM scope on behalf of the AcePLP team.
In a Mechanical Engineering BIM model, you will become a BIM modeller of mechanical systems, and what you draw will include elements of infrastructure, plant and machinery, tools, components, air-conditioning and mechanical ventilation, and so on. There is some overlap with electrical systems which includes power supply and distribution, telecommunications, computing instrumentation, control systems, so you may also be creating Electrical BIM models or interfacing them with Mechanical BIM models.
Today, BIM is used in all disciplines and across all jobs in the Built Environment, including building systems such as Air-conditioning and Mechanical Ventilation (ACMV). Advancements in construction technology is reshaping the future of mechanical engineering jobs.
Client procuring such services can be main contractors with their own Mechanical and Electrical (M&E) departments, consultants that provide engineering design and advisory services in this area, or even specialist M&E subcontractors and suppliers.
As you learn and progress in the digital delivery services role, you may be moved into projects that require a great deal of integration and coordination with other stakeholders, because the role of design and construction is often a collaboration between consultants, contractors, and specialists.
The use of BIM in Digital Delivery Management is one of the most exciting developments in the building and construction industry, and represents exciting job opportunities for fresh graduates in BIM. It has changed the way that Architects, Engineering, Contractors and Building Owners work together on construction projects, greatly increasing the efficiency in processes and enhancing collaboration among teams.
As a BIM Engineer at AcePLP, you will develop your technical skills in creating and coordinating BIM models of the Built Environment and grow your professional network from within. As you provide digital delivery services to our clients on behalf of the AcePLP team, you will gain practical knowledge and experience of the Built Environment through jobs in BIM.
One of the most important things you can learn from this job is to combine your spatial awareness from digitalization and visualization of the Built Environment with improving processes and increasing efficiency using the latest construction technology. You will become very comfortable with reading and interpreting building plans and translating them from a paper-based format into digital replicas of projects, otherwise known as digital twins.
In your assignments, you will serve clients that are contractors, consultants, or facility owners and operators. They can be stakeholders anywhere along the building lifecycle, such as planning, design, construction, and facilities management. You may be assigned to work on Architecture, Civil or Mechanical and Electrical type of projects, or a combination of several engineering disciplines.
Your ability to coordinate across engineering disciplines and incorporate the latest technological advancements into project processes will set you up for an exciting career in digital delivery.
what is your career progression like?
BIM has greatly improved how architects and engineers design and construct buildings and have now become integral to all processes in the Built Environment. If you have a diploma in BIM, or a degree in BIM, you will have many opportunities in Digital Delivery Management track, so long as your interest lies in technology implementation. Jobs in BIM Digital Delivery involves the adoption and implementation of up-to-date emerging digital technologies to optimize operations and processes, improve collaboration and enhance work efficiency.
You can progress in this track to become an expert DDM professional, rising in the ranks to become a Tier 2 (Lead) BIM Manager, and then a Chief Digital Officer (Tier 1), where you will oversee the implementation and innovation of digital solutions to achieve digital transformation in the business, leading the strategic direction in your team.
Depending on the assignment opportunities, you may also have collaborated with structural and/or mechanical and electrical teams. This kind of experience can have a transformative effect on your career as a Digital Delivery Management (BIM) professional, and on parallel, set you up for success if you choose to pursue many careers in Built Environment tracks, as our colleagues have done.
gain industry recognition as digital delivery management professional
The skills, knowledge, and experience which you gain from participating in this apprenticeship programme will make you eligible to become an accredited professional in the Digital Delivery Management (DDM) track of the Built Environment. This is a nationally recognized industry accreditation scheme that provides a structured framework to assess and recognize your digital skillsets. The recognition can help you ensure appropriate remuneration and enhance employability.
By gaining the requisite skills and experience through our apprenticeship programme, you will minimally qualify as a Tier 4 DDM Professional (Assistant Specialist), commonly known in our industry as a BIM Modeller, at the end of the 26-month programme.
If you have undertaken BIM coordination projects in the period of your apprenticeship, integrating models from various engineering disciplines such as Structure and Architecture to deliver coordinated combined services models, you may qualify at the Tier 3 DDM Professional (Specialist) level, commonly known in our industry as a BIM Coordinator.
For information regarding the DDM Accreditation Scheme, visit ddm.buildingsmartsingapore.org.
CAREER PATHWAYS TO ACCREDITED DIGITAL DELIVERY MANAGEMENT (BIM) PROFESSIONALS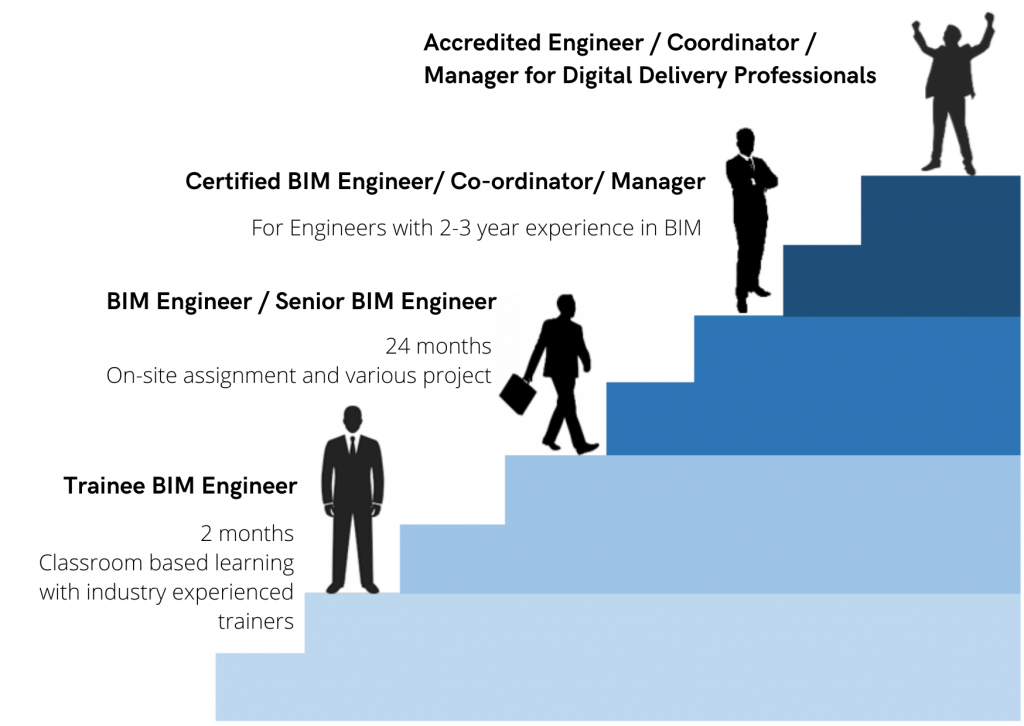 BIM DESIGNS BY OUR ENGINEERS