Under the Smart Nation initiative, the Singapore government seeks to invest in technologies such as data analytics, ICT infrastructure and IAAS to enhance the quality of life of citizens and the ease with which to do business with the Singapore government. BIM will lay the foundation for which a host of other digital services will be layered upon.
For example, BIM is one of the key strategies under HDB's Housing Productivity Framework to raise construction productivity by 20 to 25 percent (2010 – 2020). As part of this effort, HDB has engaged with contractors to create comprehensive BIM object libraries that will be used to support their effort in using standardised, pre-fabricated components in construction.
How does BIM benefit its adopters?
In the case of the HDB project, the use of BIM object libraries will help facilitate knowledge transfer from project-to-project. For example, the HDB team could simply re-use and make minor modifications to previous BIM objects to a new apartment block that has to be created in the Northshore District or Punggol Point District. These BIM objects can then be manufactured by PPVC suppliers off-site which are then assembled by sub-contractors on the construction site ( for more information, find out more about Design for Manufacturing and Assembly). Gone are the days were construction is performed entirely on-site – a source of major delays.
Indeed, in the World Economic Forum's report on "Shaping the Future of Construction", it is believed that digitalisation of construction efforts could generate cost savings of between $0.7 – 1.2 trillion in the Engineering and Construction phase, and up to $0.5 trillion in the Operations phase globally. Given the incentives in cost-savings, it is no wonder why demand for candidates well-versed in digital construction skills will only grow in future.
What are the potential applications for BIM?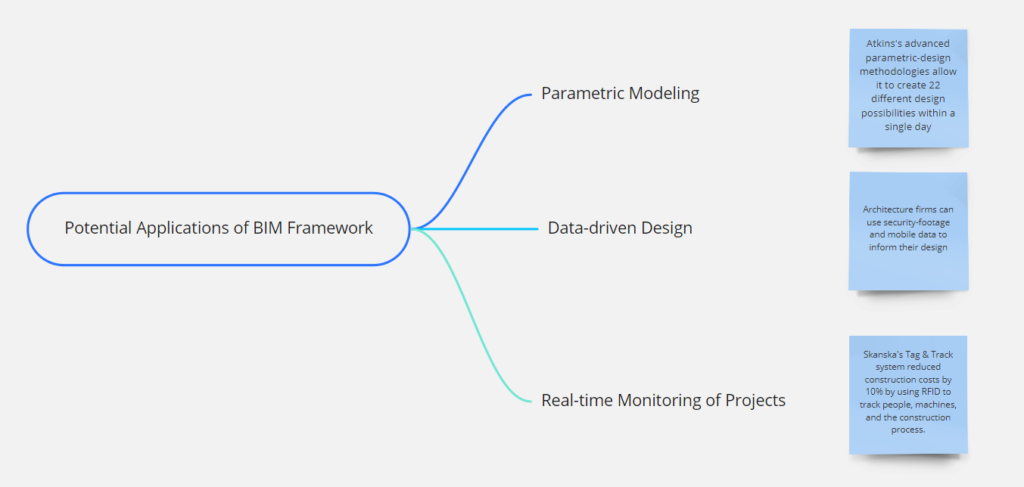 To summarise, parametric modelling techniques speed up the design process by iterating through multiple prototypes in the virtual model.
Data-driven design techniques will help inform the design process, allowing the designer to come to solutions that meet the needs of clients.
And lastly, real-time monitoring of projects through embedded sensors will help contractors cut costs and reduce construct times.
What are the career options available to me?
Currently, the use of BIM in modelling objects has reached a mature phase. However, the application of BIM to drive design, construction, and maintenance efficiencies is still at its infancy. After you have built a strong foundation in interacting with BIM, you may venture into other parallel industries. For example, with your experience with BIM objects from a previous project, you can act as a consultant to inform the design team of available PPVC components to help them reduce construction costs.

There are many other career opportunities available but you would likely have to refer to an earlier article to cover all grounds.